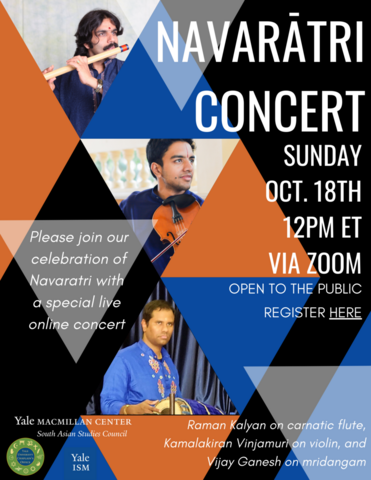 Event time:
Sunday, October 18, 2020 - 12:00pm
Location:
on Zoom, registration required
Navarātri is one of the most important Hindu celebrations in India. The festival typically runs for nine nights and honors a unique feminine form of the Divine each night. You can learn more about Navarātri at this link.
Please join our celebration of Navarātri with a special live online concert open to the public.
Breathing magical melodies on the Indian bamboo flute, flute virtuoso Raman Kalyan is one of the leading flautists in the Carnatic style of music. Raman and his accompanists Kamalakiran Vinjamuri on the violin and Vijay Ganesh on mridangam will perform devotional pieces celebrating the Devi in her Navarātri forms.
Artist bios:
This concert is sponsored by the Yale Hindu Life Program, the Yale Institute for Sacred Music and the MacMillan Center's South Asian Studies Council