Svaagatam!   स्वागतम्    Welcome!
Hindu Life at Yale operates under the auspices of the Yale Chaplain's Office. We are located in the heart of the University on Old Campus. Our programs and spaces are designed to nourish the mind, body and soul. Our worship services support collaborative spiritual engagement while our prayer, tech-free and meditation spaces offer an opportunity for quiet introspection. Lectures and discussions address classical and contemporary themes at the intersections of where our participants live, work, imagine, and relax. Study breaks with spicy chaat, masala dosas and steaming cups of chai provide conviviality and warmth against the chill of winter. Hindus and non-Hindus, undergraduate, graduate and professional students, post-docs, staff and faculty are all welcome. Come be a part of the vibrant Hindu community at Yale!
First Time On Our Site?
Graduate and Professional Students
Office Hours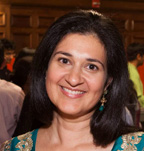 Dr. Asha Shipman serves as the Director of Hindu Life. Her office is in Breathing Space, located in the basement of Welch Hall on Old Campus via Entryway C. Asha holds office hours by appointment. To register for our email list please send a request to asha.shipman@yale.edu.