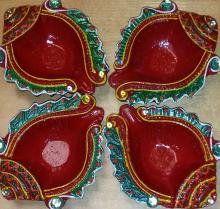 Hindu students at Yale have hosted religious activities on campus since the early 1990s, mainly focusing on Diwali celebrations and held in Davenport College. Formal affiliation with the Chaplain's Office began in 2007 and programming began to expand to include lectures on yoga, meditation and Hindu philosophy by Yale faculty. The Hindu Students Council became a formally recognized student group in the 2008-09 academic year. In the spring of 2010 the Chaplain's Office hired Neil Aggarwal, a 3rd year resident in psychiatry at Yale for a one-year appointment as Hindu Fellow, advisor to the HSC Board. In April of 2010 Hindu students inaugurated a Hindu Prayer Room adjacent to the Chaplain's Office on Old Campus.
New programming included study breaks and a Bollywood mixer. Third year Law student Simi Bhat served as the second Hindu Fellow from October 2011 to April 2012. In 2012 Holi festivities outgrew Cross Campus and moved to Swing Space. Also in 2012, the Diwali Pooja changed venues to the Commons Dining Hall and the program expanded to include lighting sparklers on Beinecke Plaza and music and dance performances by South Asian student groups.
In 2013 the Chaplain's Office formally expanded their staff and hired Dr. Asha Shipman to be the first Hindu Life Advisor at Yale. Under the guidance of Dr. Shipman, the Board underwent a training on Hindu rituals. As a result worship programs changed to reflect a more traditional format as performed by Hindu Temples. The Board added a number of festival poojas to their programming as well as a Navratri Homa (Havan) which HSC first hosted in September 2014. Programming continues to evolve with the addition of the highly popular Chat, Chaat & Chai study break, lectures by visiting faculty and text study. In August of 2016 Dr. Shipman was hired full-time as the Director of Hindu Life.
In the Spring of 2019 the Hindu Students Council Board voted to become the Hindu Students Organization.