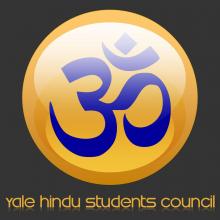 The Yale Hindu Students Council (HSC) has its roots in a group that hosted Diwali poojas at Yale since the early 1990s. After several years of inactivity, the group was re-founded in 2005 as the Bharatiya Prarthna Society by Govind Rangrass (DC '08), Swati Deshmukh (PC '05), and Nikhil Seshan (BK '07). The BPS-hosted Diwali Pooja had humble beginnings and was mostly held in student dorm rooms with student-led worship services.
In 2006, HSC President Govind Rangrass (DC '08) organized the second annual Yale Diwali Pooja in the Davenport Common Room, securing funding from the Yale Chaplain's Office for most of the expenses. For the first time, the pooja was held on a grand scale, with several volunteers, beautiful decorations, and a full service complete with bhajans, prasad, and a post-service dinner. Education was a major component of the event, with bhajans and rituals being explained in the context of Hindu philosophy.
Davenport College was kind enough to host the Diwali Pooja again in 2007. The event was featured in the Yale Daily News and was organized by 20 volunteers. At this point, the activities of HSC were limited to the Diwali Pooja and occasional seminars held with various Yale faculty on yoga, meditation, and Hindu philosophy.
In 2007-2008, under President Ashish Bakshi (DC '10), HSC began to work with Yale's new Chaplain, Sharon M. K. Kugler, who extended HSC the full support of her office. The 2008 Diwali Pooja was held in the Yale President's Room, a much larger and more central location, and attracted over 120 Yale students, faculty, and family members. The evening included a 45-minute program of bhajans and shlokas with explanations of Diwali and Hindu philosophy followed by a full Indian dinner. That year, HSC set up a formal executive board, ran weekly prayer/discussion meetings, held a spring kickoff brunch, collaborated with the South Asian Society for a Holi event, and started work on a number of projects that would come to fruition the following year.
2009-2010 was a watershed year for HSC, as a number of new initiatives came together at once. The 2009 Diwali Pooja, again held in the President's Room, attracted over 150 Yale students, faculty, family members, and community members. HSC's weekly prayer/discussion meetings focused on a text study of the Bhagavad Gita, and the group hosted its first guest speaker (who presented "The Bhagavad Gita and the Matrix").
On April 5, 2010, HSC inaugurated the Yale Hindu Community Room in the basement of Bingham Hall, the first permanent space for Hindu worship and community events at Yale, and in the spring, the Chaplain's Office hired the first Yale Hindu Fellow, Neil Aggarwal. New events included a Bulldog Days Bollywood Mixer, biweekly study breaks, an end-of-semester Saraswati Pooja, and the largest-ever celebration of Holi at Yale on Cross Campus.
On October 1, 2011 the Chaplain's Office hired third-year Law student Simi Bhat to serve as the second Hindu Fellow for the 2011-12 academic year. In 2012 Holi moved to Swing Space and Diwali Puja was moved to Commons Dining Hall, a much larger space, attracting a record number of attendees from Yale and the surrounding communities. The program was expanded to include lighting of sparklers in Beinecke Plaza and performances from several of Yale's South Asian music and dance groups.
In 2013, recognizing a growing need in the Yale Hindu community for a permanent staff member, the Chaplain's Office hired Dr. Asha C. Shipman to be the first Hindu Life Advisor at Yale. In 2016 Dr. Shipman was appointed full-time as the Director of Hindu Life.