Mission Statement
The Yale Hindu Students Organization (HSO) is an undergraduate student organization aiming to foster an environment of Hindu spirituality through an open community of religious practice and cultural expression. We organize events throughout the year to promote an awareness of Hinduism within the Yale and New Haven community. Our events are meant to stimulate an exchange of ideas on religion, and are above all educational.
2022-2023 Board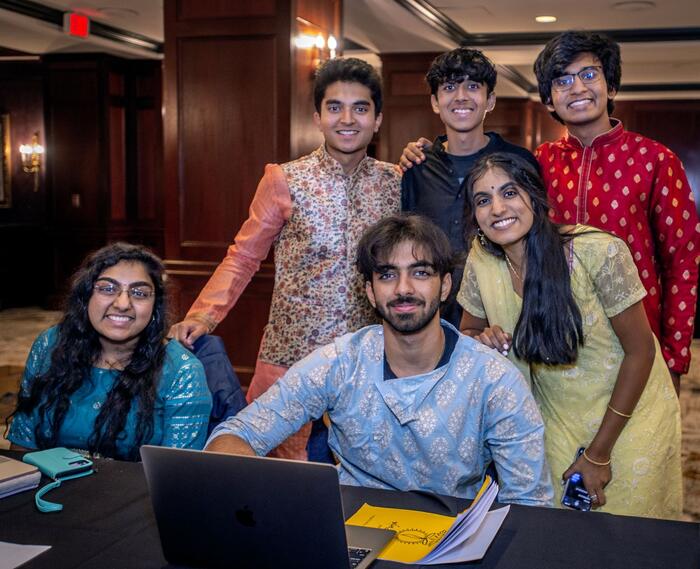 Maanasa Nandigam ES'25; Ojas Mehta SY'25; Sohum Kapadia SY'25; Himani Pattisam BF'25; Niel Sachdeva JE'25; Dinesh Bojja MC'26; Ayush Iyer BR'26; Aadi Krishna GH'26
Major Events
All of our activities are publicized through our Facebook page.  We also have an electronic newsletter - email Asha for more information.
Poojas occur in the Hindu prayer room according to the festival calendar.  Saraswati Poojas are held at the beginning and end of each semester. Saraswati is the patron goddess of learning and Hindu students typically address prayers to her at these times. On non-festival weeks cultural events such as the popular Chat, Chaat and Chai Study Breaks as well as cultural/spiritual discussions take place in the prayer room.
Navratri Homa or Navratri Puja celebrates nine festival nights dedicated to worshiping the Goddess in her many forms. The Homa (Havan) is a fire ritual propitiating the Goddess as Durga for her blessings. 
Diwali Pooja is an annual prayer and dinner event that celebrates Diwali, the Hindu festival of lights.  The program includes a pooja and a catered Indian dinner.  We have also in the past lighted sparklers on Beinecke plaza. The event is open to the Yale and local New Haven community.
Holi is an outdoor celebration of spring held on the last day of undergraduate classes in April. Rooted in Sri Krishna's playful sporting with his friends and a celebration of spring we infuse the air with hundreds of pounds of colored powder. This is an exuberant end to the spring semester!