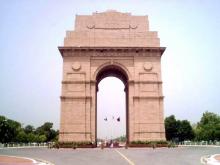 The following websites offer excellent resources on Hinduism and Indian culture suitable for beginners as well as those further on in their spiritual inquiry.
Please note that this list offers merely a starting point.
www.avsrinivasan.com - Local Connecticut author and leader in the Hindu community, Dr. A. V. Srinivasan is the primary founder of the Sri Satyanarayana Temple in Middletown Connecticut. He has written a number of books on Hinduism including the practical How to Conduct Puja series, Hinduism for Dummies, and The Vedic Wedding. He regularly performs Hindu weddings and speaks on Hinduism from the perspectives of theory and praxis.
www.himalayanacademy.com Beautiful Kauai island hosts Kauai Aadheenam, a Shaivite monastery founded in 1970 by Satguru Sivaya Subramuniyaswami. Now led by Satguru Bodhinatha Veylanswami, the monks publish Hinduism Today, an international magazine which examines Hindu philosophy and daily practice around the world. In 2007 they published the text What is Hinduism?.
www.hafsite.org Primarily an advocacy organization promoting Hinduism in the US, the Hindu American Foundation site offers resources for teachers as well as interested individuals. Particularly useful is Hinduism 101, an interactive resource for children.
www.sacred-texts.com Dating back to 1999 this site offers free electronic versions of sacred texts. Hindu texts include translations of the Vedas, the Upanishads, major epics, Vedanta sutras, fairy tales and poetry.