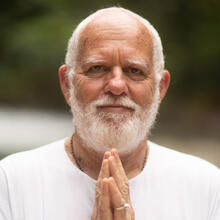 Robert Sankara Moses leads Prayanama (yogic breathing) courses for individuals around the world. The Hindu Life Program is pleased to host Robert as an instructor for Fall 2021 virtual courses. 
Robert Sankara Moses has 48 years' experience as a teacher of Yoga and Vedanta. Born in South Africa, Robert studied architecture, travelled abroad and met his teacher, Swami Vishnudevananda, disciple of Swami Sivananda of Rishikesh, India, in 1972. Robert spent the next 22 years studying and serving in the International Sivananda Yoga Vedanta Centers (ISYVC). He directed ISYVC centers and ashrams and taught yoga teacher training and advanced training courses worldwide.  
In 1994, Robert left ISYVC to marry and raise a family. Robert continues to teach Yoga and Vedanta and maintains his daily sadhana. In 2003 he founded and continues to co-publish Namarupa: Categories of Indian Thought, a magazine about the philosophies and arts of India. Robert leads annual pilgrimages to sacred places of India.
Since the beginning of the coronavirus pandemic, Robert has been teaching Pranayama and philosophy courses on Zoom to students from around the world.
Robert can be found here: Web • Instagram • FaceBook • Vimeo • Twtr • Tmblr