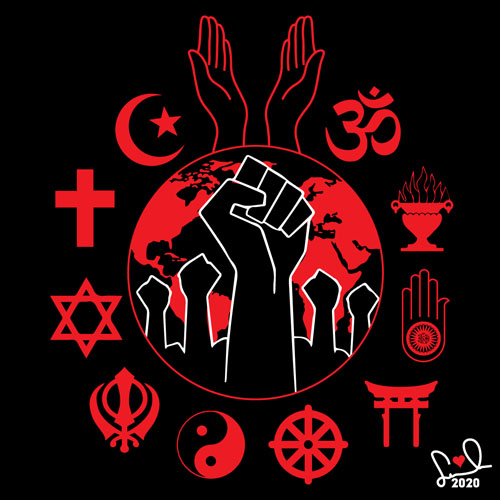 Namaste Dear Friends,
My colleague Sangeetha Kowsik is an artist and Hindu Chaplain at NYU. She just created this beautiful graphic of unified faiths striving towards justice for all. She posts in her blog all the thoughts and emotions that went into creating this design. I share it with you as a token of our wish for a world in which all creatures are cherished, free from want and cruelty, all equal in the eyes of each other.
Usually by this time the Hindu Life at Yale program has shut down for the academic year. But this has been a very different spring. March and April were a swirl of fear, uncertainty, and pain as we watched the pandemic take hold and devastate certain communities and countries in this sacred world of ours. The global threat inspired global acts of compassion. Millions of people have sheltered in place, venturing out infrequently wearing masks, and cheered and prayed for front-line workers who have not had the luxury to stay home. During this time, I hosted Zoom meet-ups, online moments of listening and care-giving. I posted resources on my website meant to soothe the heart and mind and provide some kind of Dharmic perspective.   
Now we are in a different moment; the pandemic has laid bare deep social and economic chasms within our nation and some people are taking advantage of these vulnerabilities. It is a moment where I am called to reflect on what it means to be a Hindu and a citizen of this Bhumi Mata, this sacred Mother Earth. I truly believe that our Hindu philosophies offer inspiration, compassion and hope as we navigate the injustices and cruelties of this time.
To begin with, our everyday Hindu greeting, Namaste, with palms folded, is much more than just Hello. Namaste means:
My soul recognizes your soul. I honor the light, love, beauty, truth and kindness within you because it is also within me. In sharing these things there is no distance and no difference between us. We are the same, we are one. 
Another foundational philosophy originates in the Maha Upanishad (Chapter 6, Verse 72) which says:
Only small men discriminate saying: One is a relative; the other is a stranger. For those who live magnanimously the entire world constitutes but [one] family.
We also have so many wonderful prayers for peace and well-being. Uttering such prayers will certainly beam positivity into the world.  
auṁ sarve bhavantu sukhinaḥ, sarve santu nirāmayāḥ |
sarve bhadrāṇi paśhyantu mā kaśhchid duḥkha-bhāg bhavet ||
Auṁ. May all living beings become happy. May all beings become spiritually, mentally and physically healthy. May all experience goodness and may not a single living be maltreated. [translation courtesy Dr. Brahmachari V. Sharan, Dir. of Dharmic Life & Hindu Chaplain, Georgetown University]
The question I am asking myself and that I invite you to ask as well is: Can we take the next step of translating this philosophical unity, this notion of being a full sister or brother to all humankind, into compassionate action? If this sacred philosophy Vasudhaiva Kutumbakam, is truly an arrow in our quiver of Hindu truths, if we fervently wish for universal happiness and freedom from exploitation, then we must stand with those who are disproportionately suffering.
There are many ways to do this. Give support to minority businesses, directly participate in a social justice initiative, reach out to a friend in the African American community to tell them how much you care about them, and listen to people talk about their experiences. I am pleased to share that last night the Yale Hindu Students Organization joined with the Yale MSA, South Asian Students Association, Sikhs at Yale and Yalies for Pakistan to do a phone and email bank in response to George Floyd's murder and the need to stop the racial injustices in the US. MSA Political Action Chair Shaezmina Khan coordinated the event. Please contact me for the resources she collected and take action yourself.
Tonight there is an opportunity to hear Ahmaud Arbery's mother Wanda Cooper-Jones and the founders of #IRUNWITH MAUDE talk about Ahmaud and this fight for justice being waged across the country. You can register here:  https://docs.google.com/forms/d/e/1FAIpQLSdaL9yhSub1U8T7ubUaWdrPPRz0ATAvEAfUJHV0xx3YXhLIug/viewform
If you choose to join, where the form asks how you heard about the event please write in Lynn Sullivan from Yale Divinity School.
It is a tumultuous, exhausting time but a good way to improve one's sense of well-being is to help others. Do only what you are able, with no regrets, and take good care of yourselves.
With love and light,
Asha