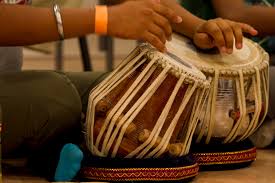 Namaste Friends,
Here are some more music/video clips to brighten your day. The first three feature percussionists and will certainly get your pulse going!
First video: "Three amazing shloka/percussion pieces, featuring the legendary Padma Bhushan awardee and Grammy winner Vidwan Vikku Vinayakram on ghatam, were the prelude to the much anticipated Karnatic concert at Afghan Church, a famous heritage site in Mumbai. The concert was the grand finalé of the FEA-curated Karnatic Modern II series with TM Krishna. Vikku was supported by his grandson Swaminathan Selvaganesh on kanjira and vocals, Arunprakash Krishnan on mridangam and Guru Prasad on ghatam."
Second video:
 Percussionists from a performance with Carnatic saxophonist Kadri Gopalnath. Many Indians in the CT communnity were fortunate to hear him play live in Connecticut years ago. An amazing musician and wonderful soul.
Third video
: Ustad Zakir Hussain on tabla and Rahul Sharma on santoor (a form of hammer dulcimer)
Fourth video: Anoushka Shankar "Dancing in Madness" from her Traveller album and featuring an Odissi dancer.
Fifth video:  Carnatic vocal performance by "Dr. Nithyasree Mahadevan, an eminent Carnatic musician and playback singer for film songs in many Indian languages. Nithyasree was born to Lalitha Sivakumar and I. Sivakumar. Her paternal grandmother, D. K. Pattammal, and her granduncle, D. K. Jayaraman."
Sixth video: "Uppalapu Srinivas…was an Indian mandolin player and composer of the Carnatic musical tradition of Southern India. A child prodigy, he made his debut in 1978, and came to be popularly known as Mandolin Srinivas."
With love and light,
Asha