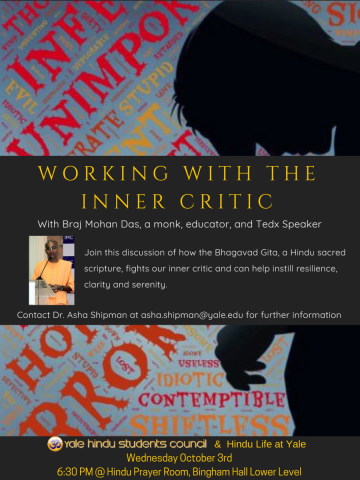 Event time:
Wednesday, October 3, 2018 - 6:30pm
Location:
Hindu Prayer Room - Bingham Hall Lower Level via Entryway D
Feeling overwhelmed, underprepared and out of sorts at times is part of normal life.  But sometimes that critical inner voice makes things worse! Join this discussion of how the Bhagavad Gita, a Hindu sacred scripture, fights our inner critic and can help instill resilience, clarity and serenity.
Our guest speaker Braj Mohan Das is a monk, educator and TEDx speaker. Braj Mohan Das earned his bachelor's degree at IIT Mumbai and an MS from the University of Illinois.
This event is free and open to the Yale community only. 
Light refreshments will be served.