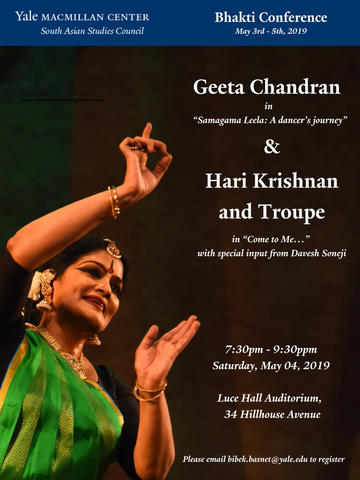 Event time:
Saturday, May 4, 2019 - 7:30pm
Location:
Henry R. Luce Hall
34 Hillhouse Avenue
New Haven
Samagama Leela: A dancer's journey by Geeta Chandran" & "Come to Me…" (world premiere) - Hari Krishnan and Troupe, with special input from Davesh Soneji
**Eventbrite Registration Required**
Star classical dancer (Padmashri) Geeta Chandran has been trained by a galaxy of eminent Bharatanatyam Gurus including Smt. Swarna Saraswathy and Guru K.N. Dakshinamurthi Pillai (younger brother of the legendary Guru, Padmashri Shri K.N. Dandayudhapani Pillai). Geeta has ably synthesized her eclectic classical training to present unique dance presentations in which she skillfully weaves abstract notions of Joy, Beauty, Values, Aspiration, Myth and Spirituality. 
 
"Come to me…" is a full-length Bharatanatyam solo work inspired by courtesan dance traditions from South India. It explores the rich vernacular histories of courtesan dance, and as the title of the work suggests, it focuses on ideas around love, sexuality, desire, and longing. Hari Krishnan and his four musicians present a personal and highly mediated representation of rare dance and music repertoire from the courtesan communities of central Tamil Nadu and coastal Andhra Pradesh, based on decades of study and research.
https://www.eventbrite.com/e/samagama-leela-a-dancers-journey-by-geeta-chandran-come-to-me-world-premiereby-hari-krishnan-and-tickets-60194757139