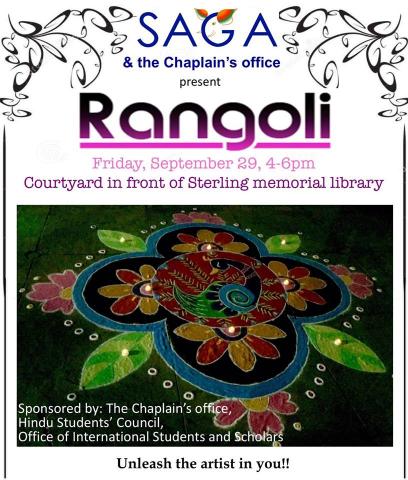 Event time:
Friday, September 29, 2017 - 4:00pm
Location:
Sterling Memorial Library front Courtyard
A feast of colors and fun with the South Asian Graduate and Professional Association
Rangoli is a traditional form of floor art created with bright colors, and attractive patterns, with the purpose of livening up the ambience. Meet us in front of the Sterling Memorial Library (Cross campus) and fill colored sand of your own choice to the rangoli designs that we will have drawn. If our designs inspire you, create one of your own! Hang around to chat with us about the traditions associated with rangoli making, while sipping hot chai (tea) with samosas.
See the Facebook announcement here
This event is free and open to the Yale community.