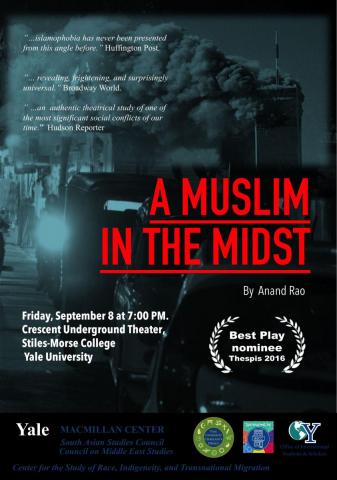 Event time:
Friday, September 8, 2017 - 7:00pm
Location:
The Crescent Underground Theater - Stiles-Morse Colleges
A provocative new play set three days after 9/11 in India's Silicon Valley, Bangalore.
When an American Hindu couple offers a ride to a poor Muslim family stranded on the streets, their conversation takes an unexpected turn. Can they let go of their fears and prejudices to achieve a common fellowship?
A talkback with the cast & crew follows the play.
This event is free and open to the Yale community. Undergraduates, graduate & professional students, post-docs, fellows, faculty and staff - all are welcome.
Ticketing is via Eventbrite at: https://www.eventbrite.com/e/a-muslim-the-midst-tickets-36905139265
Tickets are limited; a wait-list will be available. Guests are advised to arrive by 6:30. All open seats, even those with prior reservations, will be offered to those on a waiting list five minutes prior to show time.
Presented by the Yale Chaplain's Office
in conjunction with:
The MacMillan Center, The Center for the Study of Race, Indigeneity, and Transnational Migration, The Office of International Studies and Scholars, The Asian American Cultural Center, The South Asian Studies Council and The Council on Middle East Studies.