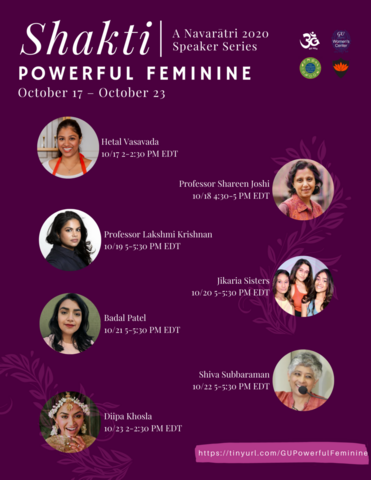 Event time:
Saturday, October 17, 2020 - 2:00pm

to

Friday, October 23, 2020 - 2:00pm
I am pleased to announce that the Hindu Life Program at Yale is partnering on a Navarātri speaker series led by the Dharmic Life Program at Georgetown. The speakers are dynamic Hindu women discussing their work in culinary arts, poverty, global health, creative expression, gender, race and sexuality and social influencing.
Here is the series overview: Georgetown University's Hindu Student Association is excited to announce the line up for their first ever Navarātri 2020 speaker series, 'Shakti: the Powerful Feminine'. 7 amazing women from TV Chefs to Professors, from Activists to Social Media Stars have given us their time to share inspiration and wisdom from the depths of their experiences. They may be working in different realms but they are united by their energy and inner-power. Every afternoon throughout Navarātri there will be a 30 min talk, and we invite you to take a pause in your days to come and meet these exceptional women. This event is kindly co-sponsored by GU Women's Center and our counterparts at Yale and Princeton Universities.
These 30 minute events will occur during the Navarātri period at different times so please check each individual event listing.
The Zoom link for these talks is: https://tinyurl.com/GUPOWERFULFEMININE