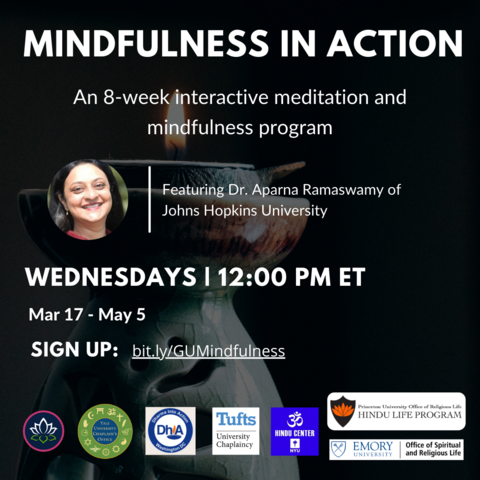 Event time:
Wednesday, March 17, 2021 - 12:00pm
Click here for the registration link
This class meets Wednesdays at 12 PM ET
March 17, 2021 - May 5, 2021
Led by Dr. Aparna Ramaswamy
The realities of the pandemic have been difficult for us all, in different ways. It is no surprise that mindful meditation has gained increasing popularity as a method of coping, but is there more to meditation than apps can give? How do we actually include meditative practices in our lives, with practical tips? Can meditative practices serve as grounding for our work ethic, sense of self, advocacy and activism, or even our deeper sense of purpose? Join us for eight sessions led by Dr. Aparna Ramaswamy – professional counsellor and senior lecturer at Johns Hopkins University – as we find ways to make these ideals a reality. Featuring guided meditations, small group discussions, tips and tricks and much more. 
The deadline to sign-up is 5pm on Friday, March 12th.
This program is hosted by Dharmic Life at Georgetown University and is cosponsored by Dharma Into Action, Yale Hindu Life, Tufts Hindu Chaplaincy, NYU Hindu Chaplaincy, Princeton Hindu Life, and Emory Hindu Life.
If you have any questions, please contact Dr. Brahmachari Sharan at vr349@georgetown.edu