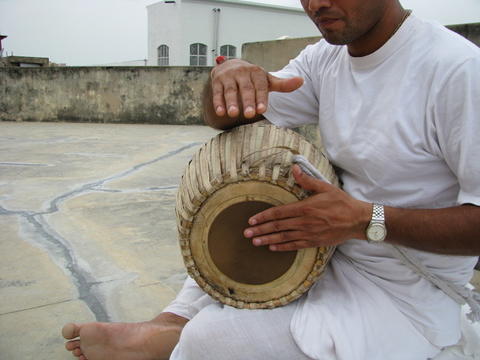 Event time:
Wednesday, November 28, 2018 - 6:30pm
Location:
Hindu Prayer Room - Bingham Hall Lower Level via Entryway D
An event designed for those who love Indian music or want to learn more basic music theory.
Dr. Eben Graves is Program Manager for the Yale Institute of Sacred Music. He is an ethnomusicologist specializing in the musical cultures of South Asia.  Dr. Graves is a trained percussionist having performed in orchestras, jazz and rock bands, and wind ensembles. His interest in the music of South Asia began with studies of the khol, a two-headed drum found in eastern India and Bangladesh.
This lecture and demonstration will introduce the basic features of the system of meter and rhythm (tal) used in two forms of North Indian music: Hindustani music and a regional form of devotional song from Bengal known as padavali kirtan. The basic terminology and function of the tal system will be discussed and practiced using the spoken mnemonic syllables (bols) that are used to learn rhythms and drumming techniques. There will also be a demonstration of these syllables and the manner that they are used on the Bengali khol (double-headed barrel drum), an instrument features in the genre of padavali kirtan.
This event is free and open to the Yale community.