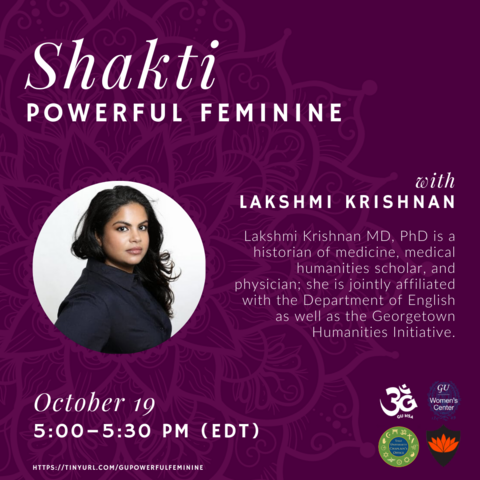 Event time:
Monday, October 19, 2020 - 5:00pm
The third speaker in the GU HSA Navarātri series is Lakshmi Krishnan MD, PhD is a historian of medicine, medical humanities scholar, and physician; she is jointly affiliated with the Department of English as well as the Georgetown Humanities Initiative.
Lakshmi's research focuses on diagnosis and clinical reasoning. She is writing a cultural and intellectual history of diagnosis and detective practices —The Doctor and the Detective: A Cultural History of Diagnosis (forthcoming, Johns Hopkins University Press). This work has clinical relevance in responding to emerging disease or medical mystery on a global scale, the diagnostic process in the face of new technologies, and the immediate problem of diagnostic error and bias in clinical practice. More broadly, she is engaged with the relationship between medicine and the humanities writ large. Areas of interest include health equity and the history of health disparities, intellectual history of medicine,19th century and early 20th century literature and medicine, and cultural responses to illness. 
Zoom link: https://tinyurl.com/GUPOWERFULFEMININE