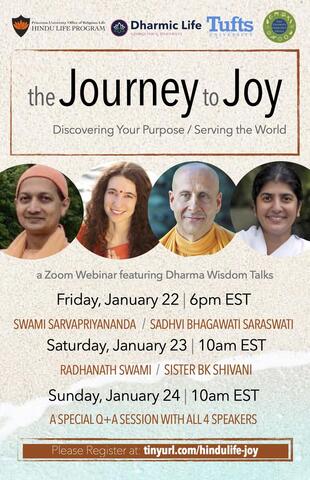 Event time:
Friday, January 22, 2021 - 6:00pm
Saturday, January 23, 2021 - 10:00am
Sunday, January 24, 2021 - 10:00am
Location:
via zoom see link - registration required
a Zoom Webinar featuring Dharma Wisdom Talks by four renowned spiritual teachers:
Friday, January 22 at 6pm EST - Swami Sarvapriyananda and Sadhvi Bhagawati Saraswati
Saturday, January 23 at 10am EST - Radhanath Swami and Sister BK Shivani
Sunday, January 24 at 10am EST - Special Q+A Session With All 4 Speakers
Open to all and free of cost, but registration is required. If interested register NOW as late registrations may not be honored.
Sponsored by the Princeton University Hindu Life Program;
co-sponsored by the Georgetown University Dharmic Life Program, Hindu Life at Yale University, and Tufts University Hindu Chaplaincy.