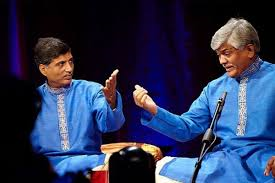 Event time:
Wednesday, April 22, 2020 - 6:00pm
Location:
via Zoom - please email Dr. Shipman
Namaste Friends,
Some people live with a sound-track, waking up with music and listening throughout the day. Others use it as a means to relax, to tune out while tuning in. 
What are you listening to these days? 
About a year ago the Hindu Life Program hosted The Gundecha Brothers for our Ramanavami celebration. They conducted a workshop on Dhrupad, an ancient devotional style of Hindustani music in Battell Chapel. In concert later that evening their voices filled Henry R. Luce Hall. 
In November 2019 we learned the sad news that Pt. Ramakant Gundecha had passed away. In tribute to the legacy of Ramakant and his surviving brother Umakant, and in the hope that their music will lift your spirits here are links to a few of their performances. 
May there be music in your hearts. 
Email asha.shipman@yale.edu for the zoom link.