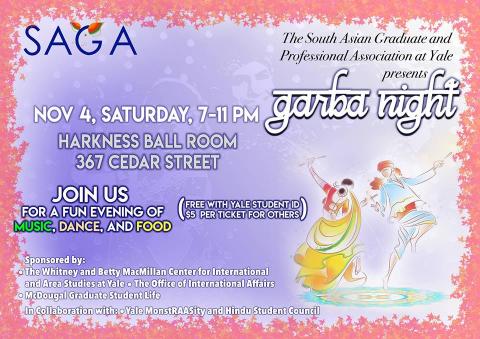 Event time:
Saturday, November 4, 2017 - 7:00pm
Location:
Mary S. Harkness Auditorium
SAGA presents the biggest dance party of 2017! Come dance to the rhythm of traditional Garba and Dandiya beats and indulge in a delicious Indian dinner.
Dandiya is a traditional Indian dance form performed in groups with colorfully decorated sticks. Dandiya along with a related dance form Garba, celebrates life in all its colors and the joy of living.
This event is FREE to attend for everyone with a YALE STUDENT ID. Ticket costs 5$ per person for others. You can purchase tickets at the door. Please bring exact change.
7:00-10:00 pm
Please RSVP via Facebook here
This event is generously sponsored by the Whitney and Betty MacMillan Center for International and Area Studies at Yale, Office of International Affairs and McDougal Graduate Student Life.
It is held in collaboration with Yale MonstRAASity and the Yale Hindu Students Council.