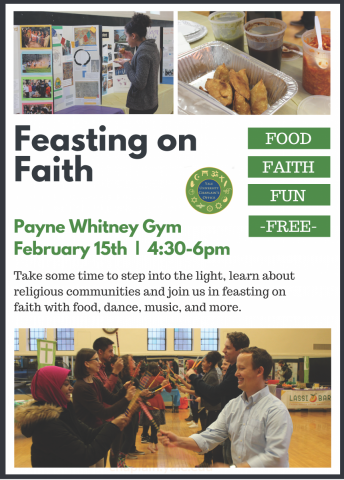 Event time:
Thursday, February 15, 2018 - 4:30pm
Location:
Payne Whitney Gym 6th Floor
A Multi-faith celebration featuring fun, food and faith…
It is the "longest shortest" month of the year and often we spend it indoors hunkering down away from the cold temperatures outside. February can feel very gloomy and this is why we are inviting you to take some time to step into the light, learn about many religious communities and join us in "Feasting on Faith" Thursday February 15th from 4:30pm-6pm in the Payne Whitney Gym 6th floor. We will be serving delicious food from various cultures, enjoying music through both song and dance and participating in some "hands on" sacred arts. Come by for the whole time or for just a few minutes. It will be a feast for the eyes, ears, tummy and most importantly for the soul!
Join us!
4:30- 6 pm