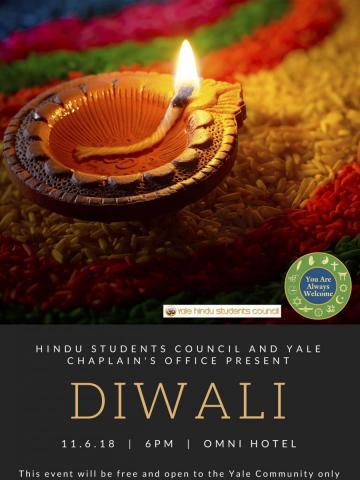 Event time:
Tuesday, November 6, 2018 - 6:00pm
Diwali is the Hindu Festival of Lights, and one of the biggest celebrations of the year. It is a day symbolizing the triumph of good over evil; of light over darkness. We will be conducting a prayer service (puja) to Goddess Lakshmi for peace, prosperity, and success in the upcoming year. A catered vegetarian Indian dinner will follow the puja.
 
When: Tuesday, November 6, 2018 
Doors open at 5:45, close at 6:15.
Where: Omni Hotel, 155 Temple St, New Haven CT 
Proceed upstairs to the Grand Ballroom. 
 
Who: This event is free and open to all members of the Yale community only. We welcome people of all or no faiths and diverse backgrounds. 
 
Learn more about how you can help HSC prep and set up/clean up for Diwali in the Volunteer Meeting event on 10/24/18 at 6:30 in the Hindu Prayer Room! All volunteers are guaranteed a Diwali ticket. We need your help and thank you for your generosity & support.
DIWALI 2018 REGISTRATION
Registration for the Yale Community is now open! Please reserve your tickets for Diwali in advance using this link: https://goo.gl/forms/OXVISSgUiFyppuJ02
Children 5 and under do not require ticket reservations. The Omni has limited space for strollers and they are not allowed by the tables. If possible, please leave strollers at home.
To Faculty, Staff, and Administration: Please email Dr. Asha Shipman, Director of Hindu Life at Yale, directly if you wish to attend Diwali 2018. Her email is asha.shipman@yale.edu. She will handle your registration.