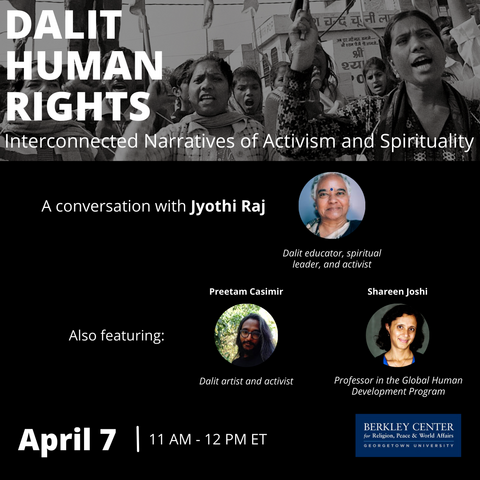 Event time:
Wednesday, April 7, 2021 - 11:00am
Click here for the registration link
Though "untouchability" has been illegal in India since 1950, the stigma and atrocities faced by communities formerly assigned that label have persisted. The most brutal effects of this are experienced by women who are often the target of sexual assault, violence, and even murder. This has been complicated by many non-Dalit political and religious groups who seek to leverage these issues for their own ends.
This virtual conversation will focus on three key aspects that are essential for uplifting the voices of Dalit people themselves: spirituality, advocacy, and economics. The featured guest speaker is Jyothi Raj, a well-respected Dalit educator, spiritual leader, and activist for Adijans ("First Peoples," also known as Dalits in political and religious contexts). Together Raj and celebrated Dalit artist Preetam Casimir lead the Bhooshakti Kendra in Tumkur, Karnataka. Raj and Casimir will be joined by Shareen Joshi, a professor in the Global Human Development Program at Georgetown University, who will discuss the effects of economic policy on the spirituality of Dalits in their quest for their human rights.
 
This event is hosted by the Berkley Center for Religion, Peace, and World Affairs and is co-sponsored by Georgetown University Dharmic Life, Georgetown University Women's Center, Princeton University's Hindu Life Program, Yale University's Hindu Life Program, Tufts Hindu Chaplaincy, New York University's Hindu Center, and Emory University's Hindu Chaplaincy.
This event will be recorded and a captioned video will be posted to this page after the event date. Please RSVP to receive an email notification once it is posted