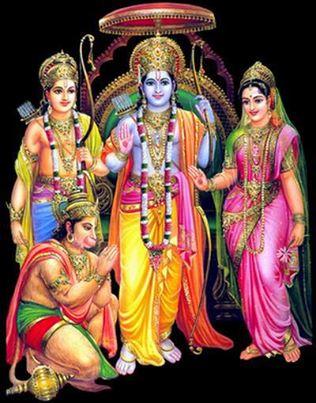 Event time:
Thursday, April 2, 2020 - 8:00am
Namaste Friends,
Ramanavami will be celebrated in the US on Thursday April 2nd this year. Given that the University has suspended classes and, in line with the Governor's wise injunction against large gatherings, we cannot host this puja in the regular fashion. 
Here is a selection of live-streamed Ramanavami pujas and celebrations sponsored by Hindu Temples across the US.
Sri Satyanarayana Temple
Middletown, CT
Live streamed on Facebook
6:30 – 7:30 PM EDT
Sri Maha Vallabha Ganapati Devasthanam
Flushing, NY
Live-streaming on Facebook page and YouTube channel
8:00 AM – 9:30 AM EDT
Sri Venkateswara Temple (Balaji Mandir) and Community Center
Bridgewater, NJ
Live-stream post will be up soon on their website
 
Hindu Temple Society of Augusta, GA
Live-streaming 9 AM EDT via Facebook
 
Hindu Society of Northeast Florida
Livestreaming via Facebook
9:30 – 10:15 EDT main rituals; 6:15 – 8:00 PM Vishnu sahasranamam chanting, Nama
Ramayana, Archana, bhajan and arati
 
Bharitya Temple, Detroit MI
Puja will be livestreamed on website; pre-registration required
Timings: 10:30 -12:30 CDT main rituals; 7 PM CDT Rama sahasranama
 
Sri Balaji Temple of Great Lakes, IL
6:00 PM CDT Zoom of Sri Sita Rama Thirukalyanam
 
Hindu Temple of Greater Chicago, IL
10:30 AM CDT
Puja on YouTube channel link
 
Hindu Society of Minnesota, MN
Live streaming link
6:30 – 7:30 PM CDT
 
Hindu Temple of St. Louis, MO
Live-streaming via Facebook Live
6:00 – 8:00 PM CDT
 
Austin Hindu Temple, TX
Live-streaming on Facebook
10:30 AM – 12:00 PM CDT
 
Hindu Temple Society and Cultural Center of the Rockies, CO
Zoom link available on their Facebook page:
11 AM – 12 PM MDT
 
Shiva-Vishnu Temple Livermore, CA
see website announcement for specific ritual timings
8:00 AM – 1:30 PM PDT
RAMA DHYAANAM (Contemplation of Sri Rāma)
raamaya raama bhadraaya
raama chandraya vedase
raghu naathaaya naathaya
seetha yaah pataye namaha
I bow down to he who is known as Rāma, the haven of security, the moon of
delight, the all-knowing, the lord of the Raghu dynasty, and husband of Sītā.
aapadaam-apahartaaram
daataaram sarva sampadaam
lokaabhiraamam shree raamam
bhooyo bhooyo namaamyaham
I bow again and again to Shree Rāma who removes all obstacles, grants
wealth, and pleases all.
 
This Ramanavami I send prayers to Sri Ramachandra to keep you and your family safe.
Jai SitaRam!