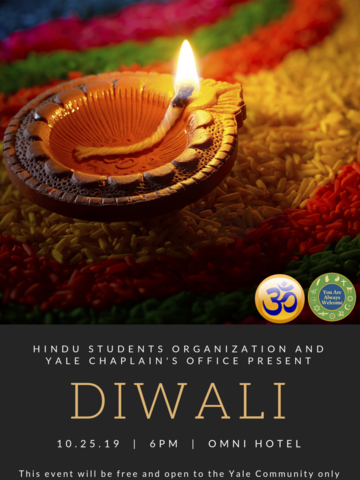 Event time:
Friday, October 25, 2019 - 5:45pm
Location:
Omni Hotel
155 Temple St
New Haven
,
CT
Diwali is the Hindu Festival of Lights, and one of the biggest celebrations of the year. It is a day symbolizing the triumph of good over evil; of light over darkness. Our evening will begin with a 40-minute worship service (puja) led by the Hindu Students Organization Board with prayers to Goddess Lakshmi for peace, prosperity, and success in the upcoming year. Guests will be asked to remove their shoes and take a seat on the carpet for the service; there will be some chairs available for those who need them. Guests will receive a program booklet that describes each aspect of the service and offers translations. The puja will be followed by a vegetarian Indian dinner.
Doors open at 5:45 and close at 6:15
This event is free and open to members of the Yale community only.
Undergraduates, G&P students, Post-docs : Please reserve your tickets for Diwali in advance using this link: https://www.eventbrite.com/e/diwali-2019-tickets-73432948927
Faculty, staff and administration: Please register using this link: https://www.eventbrite.com/e/diwali-2019-guests-of-the-chaplains-office-tickets-50975498087. On the 25th, enter the registration line marked "Chaplain's Guests" on the far side of the upstairs lobby.  Check in by 6:15 pm to guarantee your VIP reservation.
Tickets go fast so reserve today!
**We will have limited onsite registration on October 25th **