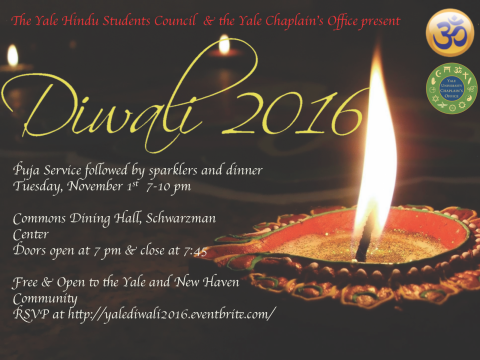 Event time:
Tuesday, November 1, 2016 - 7:00pm
The Yale Hindu Students Council and Chaplain's Office invite you to the 12th Annual Diwali Pooja on Tuesday November 1st in the Commons Dining Hall at the Schwarzman Center.
Diwali, also known as the Festival of Lights, is celebrated throughout India and is one of the most important Hindu holidays of the year. Our event will begin with a 30-minute worship service led by the HSC Board. It will be followed by lighting sparklers on Beinecke Plaza and a traditional Indian dinner.
The event is free to the Yale and New Haven community -  however seating is limited. The doors will open at 7:00 pm and close by 7:45 pm. The puja will begin promptly at 7:30 pm.
Pre-registration is via EventBrite http://yalediwali2016.eventbrite.com from October 13th until October 26th. Very limited on-site registration will be available that evening. Plan to arrive at 6:30 if you have not pre-registered.
We look forward to celebrating with you!